Mark Nelson's "Mystery Car"
From Mark Nelson: "My son and I have an old race car that "followed us home". We probably should have left well enough alone and stuck to old sports cars and hot rods, but I have always been intrigued with cars of this era."

From Mark Nelson: "The car was very well built at one point in time, but we know absolutely nothing about it. Someone, somewhere had to have seen this thing."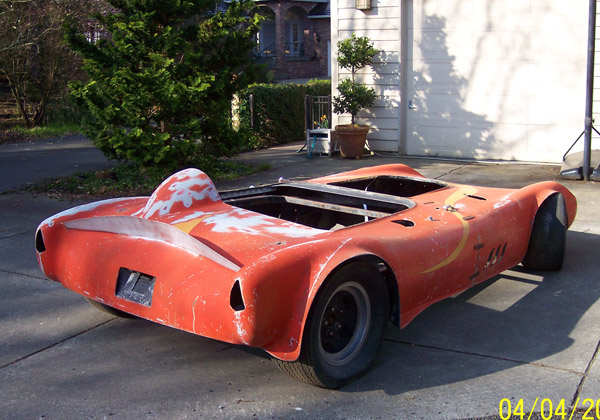 From Mark Nelson: "We know virtually nothing regarding the history of this car other than it is probably out of the Pacific Northwest and was originally Blue with Gold. The chassis is not original to the car so is no help. We know the body is fiberglass over aluminum with a tilt front end and the rear body lifted off, attached with hood pins."
From Mark Nelson: "It had a wrap around plexiglass windshield, headlight covers and all functional lights including parking and license plate. Approximate 98" wheelbase, 66" wide, and 155" total length and appears to have been well-finished at one point in time. We would like to know anything about this car, powertrain, chassis details, history, anything."
If you can help Mark identify his car: Please email me!
(7-4-11) From Curtis Gray:
"The orange car listed by Mark Nelson. I now own. If you get any info at all on it, Please let me know!"
Next: Mystery mid-1960s Sports/Racer
Back to: Photos from Bob Falcon's Racing Career
Back to: Mystery Cars -- 3