(7-17-09 From Charlie Vehle:
"Not sure but I think it's a Bourgeault. Not sure of the spelling either. But maybe it will jog some memories."
From Gerry Strickfaden:
"I'm pretty sure it's a Bourgeault. That may be Nade Bourgeault driving, though he made several of these."
(6-29-09) From Rich Blackmarr:
"Regarding the Bourgeault sports-racers, there is a full page advertisement from Bourgeault Racing Cars, Inc. of Mill Valley, CA featuring a picture of what was apparently Nade's own #88 car (in same livery shown in the Bruce Fenster Mystery Car posting on your site). The ad ran in all four MSI issues that I have. Complete class F or G versions of the car are offered with Hewland 5-speed less engine for $5,800 and a 1.5 Climax-powered prototype (#88?) is offered for $6,800. It says that the sports-racer can accommodate engines up to 2.5 liters."
(3-31-10) From Bruce Fenster:
"The mystery has been solved and confirmed by the Official Racing Program for Laguna Seca May 7th, 8th and 9th 1965. The car is indeed a Bourgeault and in fact, according to the program, it was driven by Nade Bourgeault on Sunday May 9, 1965.
Thank you to Paul Epperson for sending me a photocopy of the program. Also, for anyone interested, I have updated the Laguna Seca portion of my website to include the driver's names, date of the race and car models. I was stationed at Fort Ord in 1965 and spent the weekend taking those Laguna Seca photos. Sure wish I'd known what classics they would become. I'd have taken a whole lot more!
Another also: Paul Epperson now owns and is restoring one of those beautiful cars from that Laguna Seca Race. It's the Lotus Eleven and is one of the images displayed at my site. Perhaps one day Paul will send me a photo of the completely restored Lotus to display.
Thanks to everyone that responded and helped solve the mystery!"
(2-7-11) From Gary Horstkorta:
"The sports racer shown in this photo, number 88, is the Bourgeault built by Nadeau Bourgeault. Absolutely beautiful car and quite successful on the track with a national championship (Al Lader?). If I remember correctly, he built three – one is currently being restored, one was destroyed in the Oakland Hills fire and a third was destroyed. The driver of the car in the photo was Bourgeault who was quite a good driver especially considering he only raced occasionally and usually finished at the top or near the top of the podium. This photo was taken at Laguna Seca in the late 1960s, a bit more research and I could find the date.
I have attached one of Bourgeault's advertisements which appeared in a short-lived publication named "Motor Sport International" which was produced in N.CA. beginning in 1965. This means the Bourgeault sports racer was built somewhere near the beginning of 1965."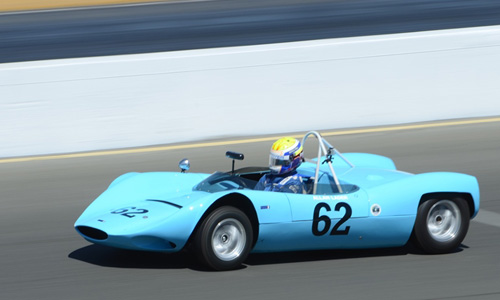 (2-5-14) From Gordon England:
"Found my way to your site via the Nostalgia Forum and started looking. In amongst a LOT of interesting stuff was the question about the Bourgealt.
Not sure how much more you know about the car but I am lucky enough to take care of it for the current owner. This is the one that Alan Lader won his class with at the 65 runoffs - although they weren't called that then I guess and it is the only survivor.
The current owner got it from Terry Gough - much better known as a Corvette racer - who had spent several years restoring it before deciding that he and racing were done. It arrived in the workshop in May 2012 and has been used sparingly since. It now has a Lotus Twin-Cam which is a much better proposition than the Cosworth SCA F2 engine it had when Lader won the Runoffs.
The photo shows Tom Dyer driving it at the 2013 Sonoma Historics meeting where he finished 6th on the road, very pleasing.
If you want more info on the car let me know it is a very clever and neat racer with some fine attention to detail. I am UK based and out in Sonoma 4 - 5 times a year."