Jerry Grant
drove ex-factory Ferrari Testa Rossa #0704, and later #0768, for Dick Hahn of Yakima Washington. Though based in the Northwest, Grant often appeared at California races.
He finished 2nd to Chuck Parsons' Birdcage at Vacaville on August 20th, 1961.

Grant signals his pit crew at Vacaville.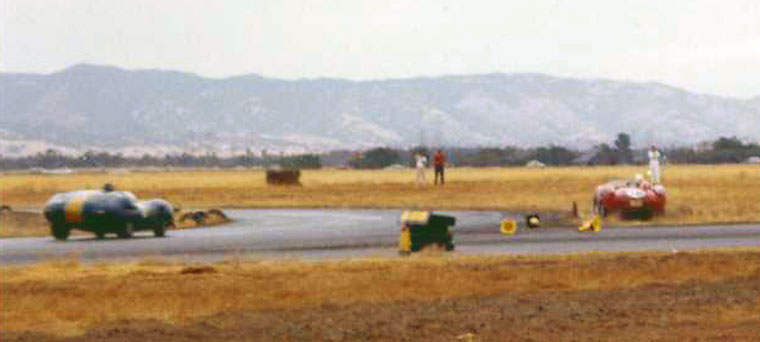 Grant scatters cones as he slides off the wet pavement at Vacaville. This gave the lead in Saturday's qualifying race to eventual winner Dave Ridenour in his Lister-Jaguar. Sunday winner Parsons was slowed by throttle linkage problems in this race.
Grant exits Turn 1 during the Riverside Grand Prix on October 15th, 1961.

He qualified through the consolation race and finished 14th.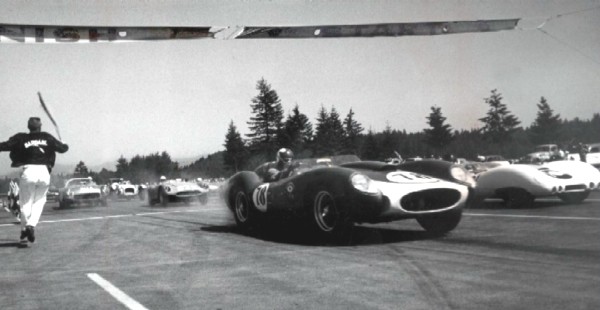 Ed Sauer of Seattle, WA, sent me this photo from Pacific Raceways. Grant burns rubber as he accelerates away at the start of a 1960 or 61 event. Next to him is Lew Florence in a Lotus Mk.15 (?). Behind is Stan Burnett in his Chevy-powered Burnett Special. (Back to: Ed Sauer's Photos)
See the ex-Jerry Grant Ferrari #0704 as it looks today!
New! More Jerry Grant.
Next: Jim Hall
Back to: Bob Edmison
Back to: New Homepage
All photographs and text are the property of Tam McPartland and are protected under United States and international copyright laws. All rights are reserved and the images and/or text may not be digitized, reproduced, stored, manipulated, and/or incorporated into other works without the written permission of the photographer, Tam McPartland