Daniel Rapley's Mystery Allard
From Daniel: "I recently purchased an Allard J2. It is a car that I would like to find some more information about."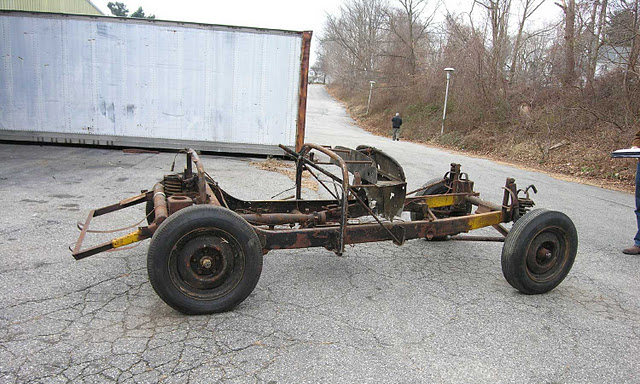 "She's been unloved for a while, but there's a lot of good here."
"In 1974 it was sold by Gran Turosmo Automotive Enterprises, Greenvale, Long Island, NY. We currently have no history previous to that.
It looks to have been Red, then painted medium Green. LHD, Steel wheels. There are remnants of an old SCCA inspection sticker on one of the few interior panels we have. The car has old Firestone racing tires. The steering wheel is burnt and the story that came with the car is that it was in a fire and the body so badly damaged that it was removed and tossed."
"LHD, Red, then Green, Long Island, NY, SCCA racing. May have been in a fire. Being that it was medium green it hopefully will be remembered, especially if the fire took hold at the track."
More Photos can be seen HERE.
If you can help Daniel with info on his Allard: Please email me!

(5-30-12) From "cccamp57592":
"This may be totally irrelevant, but a man named John Negley Jr. from New Cumberland, MD, raced a red, Chrysler-powered J2 in 1952 and 1953 at numerous events. He was killed in October 1953 in practice at Turner AFB. The only reason I mention this is that I believe his Allard, at least in 1952, was red."
Next: Mark Bean's Siata 300BC
Back to: Chuck Croteau's 1953 Porsche Spyder Special
Back to: "Mystery Cars" -- 3