Wally Barnitz -- 2
I just found the negatives for these two photos showing Wally and his E-Type Jaguar in the pits at Del Mar on Dec. 9-10, 1961. I didn't have prints of these photos in my collection which tells me that I probably gave them to Wally back in 1961.
Wally in the pits at Del Mar. A brilliant and cultured man, Wally died much too young of a congenital heart defect. After racing, Wally flew high-performance gliders until he had a serious accident.
Wally ready to go out on track. Your webmaster had the pleasure as a 14 year old to ride with Wally in this E-Type from the Monterey Peninsula to Kent, Washington where Wally raced in the July 28-29, 1962 "SeaFair" event at Pacific Raceways. A radiator hose failure caused a DNF but didn't prevent us from a high-speed open-exhaust run back to California.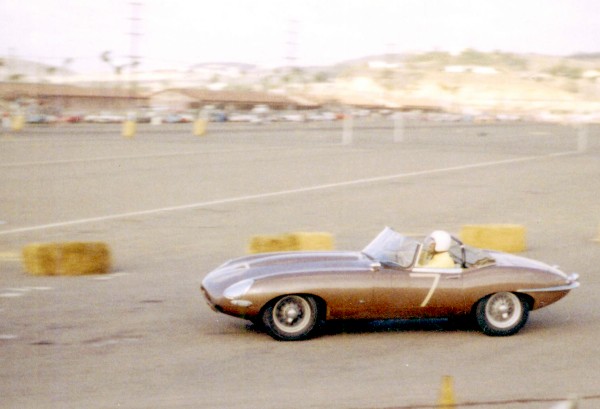 This faded print from 1961 shows Wally in the Del Mar "esses". The tight course was laid out with cones and haybales on the parking lot of the Del Mar horse racing track.
Next: Wally Barnitz -- 3
Back to: Wally Barnitz -- 1
Back to: New Homepage